🇩🇪 Leider hat es wieder länger gedauert, doch nun sind die Metall-Elemente der Heavy Support bei uns eingegangen. Morgen, am Sonntag den 11. Oktober um 12:00 Uhr wird die Heavy Support Black Metal Series also wieder auf Lager sein!
Wann auch die Tactical Black Metall Series wieder verfügbar sein wird werden wir euch wie gewohnt mitteilen! 
Wir entschuldigen uns bei euch für die Wartezeit, leider sind dies die Auswirkungen der Corona-Krise auf unsere Zulieferer. 
Habt ein schönes Wochenende & bleibt gesund!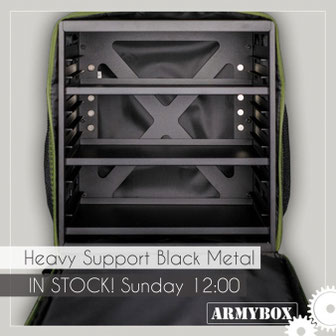 🇬🇧 It took a while but now the Heavy Support metal parts arrived at our workshop. So tomorrow, Sunday the 11th october at 12:00 CET the Heavy Support Black Metall Series will be available again!
We will inform you when also the Tactical Black Metall series will be available again.
We apologize for the wait, but these are the impact of the COVID-19 crisis on our suppliers. 
Have a nice weekend and stay safe!